Cast

Jodie
Played by Nerene Virgin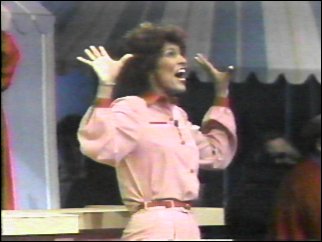 As the store's display designer, it is Jodie's responsibility to set up all the various displays throughout the store. Depending on what the special was for that day, Jodie could be found setting up displays of hats, school supplies, flowers, camping equipment, board games, sports equipment, shoes, eyeglasses, and more. Once, she even made the Children's Department look like a wild west saloon. It's a job that certainly requires a large amount of energy and creativity.
Besides her official duties in the store, she's also friend to Jeff, Sam, and Muffy, and has a strong sense of loyalty towards them, shown on a number of occasions, such as in Christmas Part 1, when Jodie decides against spending Christmas Eve with her family to spend it in the store with Jeff, and most importantly in the flashback episode Jodie where, after being offered a job as the supervisor at another store and considering all the things related to it, she ultimately chose not to take the new job in part because she would have to leave behind her friends at the store.
Jodie is also the only one of the four main characters to have changed her appearance over the course of the series. Jodie has sported many different hairstyles, and four different uniforms. The first uniform is the one that is seen in the opening credits, but was only used in the two pilot episodes - Hats and Snow. This uniform featured a brown jacket and pants, with red and yellow trim.
Jodie's second uniform, seen in all 1981 and 1982 episodes, as well as in flashback segments of Our Story Part 1 and 2, was styled as a jumpsuit. It was pink, had a zipper front, had short sleeves with red trim, a red collar, a red belt, and a red pocket on the front.
The third uniform, introduced in 1983, and used in episodes made in 1983, 1984, and 1985, made Jodie's appearance a bit more upscale, replacing the jumpsuit with a two-piece outfit. The pink-and-red color scheme was retained, the red pocket on the front changed sides and styles, and the buttons, collar, and cuffs were red. This uniform also had two red slits on the back of the top, most likely to allow a greater range of motion. Additionally, as an odd twist, illustrations of Jodie in 1986 and 1987 episodes show this uniform, and not the uniform actually used in those two years.
The final uniform, used in 1986 and 1987, contained a bit more pink than previous uniforms. It sported two pink pockets, pink buttons, a red collar, and red cuffs. This uniform had no slits in the back of the top. Jodie wore two different belts with this uniform. In 1986 episodes, she wore a very wide belt, while in 1987 episodes, she sported a much smaller belt with this uniform.