Cast

Sam Crenshaw
Played by Bob Dermer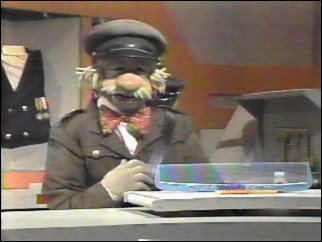 Sam is the security guard at the store. From the Computer Room through TXL, and by making his rounds, Sam's job is to ensure that the store is secure after hours. He makes sure that the doors are locked, that all the lights are bright, and that no one is in the store that's not supposed to be there.
Sam came out of retirement to take the job at the store, after having spent many years at sea in the Merchant Marine. After retiring from the Merchant Marine, he met Jodie while sitting in a park. After he raised her spirits enough to the point where she was able to successfully land a job as a display designer at the store. When she learned that the store was also looking for a new security guard, she told them all about Sam, who, truth be told, was not particularly enjoying his retirement. The thing that finally sold Sam on taking the job was that he would get to wear a special uniform, just like when he was in the Merchant Marine.
When Sam came to the store, he not only brought himself - he also brought his cat, Penelope. Penelope stays in the Computer Room. In the original Computer Room seen from 1981-1983, she had the run of the computer room. After the Computer Room was redecorated in 1984, Penelope stayed in her own little home on top of TXL. This explained why there was carpeting on top of TXL. Penelope, an actual cat and not a puppet character, seems to be most interested in doing her own thing. However, Muffy perceives Penelope as being constantly on the hunt, looking for a mouse to snack on.
In 1985's Daisies, Sam's security guard uniform played a role in foiling the plot of Greedy O'Grady, who had plotted to control the city's supply of daisies. After O'Grady stole the last two boxes of daisies in the Children's Department, after first stealing Sam's uniform in order to lend himself some credibility, he hid them on the roof of the store. The dew found on Sam's hat led everyone to realize that the daisies were on the roof, and recovered the stolen flowers.
Sam is also one who uses some very interesting and humorous interjections. "Leaping lizards", "tap dancing tunafish", "stumbling Steinways", and more make up all of these Samisms.