Cast

Mrs. Pennypacker
Played by Cheryl Wagner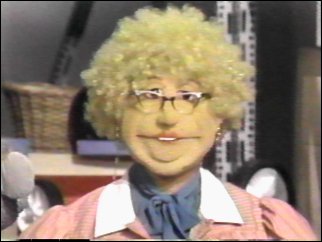 Mrs. Pennypacker, also known as simply "Mrs. P" from 1984-1985, works in the store's stock room. Among other things, she also packs and wraps items. Normally she works during the day, but occasionally she does work at night, which is when the rest of the gang sees her. She was first introduced in 1984's Boxes and Boxes, when everyone was preparing items to be sent to a new store. Mrs. Pennypacker worked late, and with Jeff, Jodie, Sam, and Muffy having never seen her before, they assumed that she was a thief.
Mrs. Pennypacker is by far one of the most traveled of the main characters in Today's Special. She has traveled all over the world and met so many different people. She's borrowed a pair of purple skis from the Baron and Baroness of Falderol, and gave them a thank-you speech. She was also the cook on the Duke of Beefgravia's yacht for his round-the-world cruise, where she saved the Duke from a typhoon, after returning from an elephant safari and completing a mountain climb in the Himalayas (and she considered that to be a boring trip!).
Being so well-traveled also helped her foil a questionable character's scheme in 1985's Daisies. When Greedy O'Grady, posing as Frank Furter of Frank Furter's Flowers, came down into the stock room looking for Jodie, he ran into Mrs. Pennypacker. She recognized him, asking him if she'd ever worked for the Duchess of Montague. After he initially denied it, Mrs. Pennypacker placed more specifically where she knew him from: "You took the pieces of the wedding cake and tried to sell them back to the guests! You are Greedy O'Grady!"
This event is also when we learned that Mrs. Pennypacker knew self-defense when she overpowered Greedy O'Grady in the stock room, which she learned from the Duchess of Montague, who taught self-defense and had her black belt. Later, in 1987's Locks, we also learned that Mrs. Pennypacker is a student in sumo wrestling, taught by a man named Mr. Yamoto.